'Let's Play Mas!'
---
Carnival celebrations in Trinidad and Tobago are world-famous and attract visitors from almost every country. Carnival lasts for months starting right after Christmas and culminates in two days of massive, vibrant celebration: the Monday and Tuesday before Ash Wednesday. Prior to that, there are weeks of competitions, parties, concerts and a special day just for children known as 'Kiddies' Carnival.'
Carnival in the Caribbean has a complicated origin. It's tied to colonialism, religious conversion, and ultimately freedom and celebration. The festival originated with Italian Catholics in Europe, and it later spread to the French and Spanish, who brought the pre-Lenten tradition with them when they settled (and brought slaves to) Trinidad, Dominica, Haiti, Martinique, and other Caribbean islands in the 18th century.
The Mas tradition started in the late 18th century with French plantation owners organizing masquerades (mas) and balls before enduring the fasting of Lent. The slaves, who could not take part in the celebrations, would observe them, often through windows, and decided to hold celebrations of their own. Their celebrations were held at the same time as the burning and harvesting period for sugar cane, and consequently became known as 'cannes bruleés' and eventually 'Canboulay.' The celebrations would include dancing, singing, costumes and mockery of the people who held the masquerade balls. They also developed Calypso music from West African Kaiso and canboulay music. Calypso was also used to mock their slave owners and communicate with each other.
By the beginning of the 19th century, there were already a large number of free African slaves in Trinidad mixed with French immigrants, earlier Spanish settlers, and British nationals (the island came under British control in 1797). This resulted in Carnival's transformation from an implanted European celebration to a more heterogeneous cultural mix that included traditions from all ethnic groups. With the end of slavery in 1834, the now completely free populace could outwardly celebrate their native culture and their emancipation through dress, music, and dancing.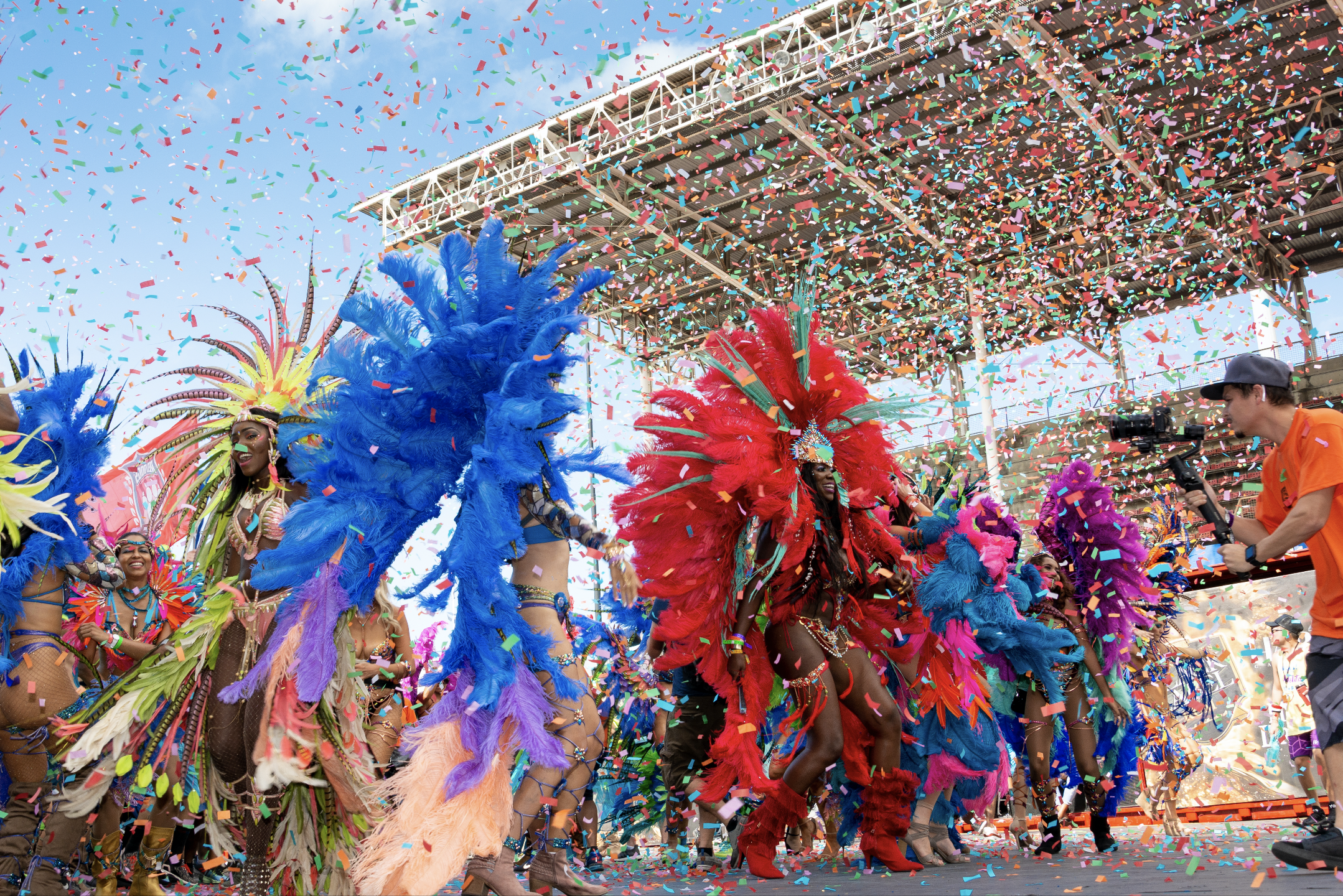 Modern carnival looks quite different from Canboulay but most traditional elements are still very much alive. Calypso is still played and sung; traditional costumes are still worn. However, these traditional practices are no longer the focus of the main celebrations. Nowadays, the costumes are like the ones found in Brazil's Carnival. This is called 'pretty mas' and the traditional costumes are called 'ole mas.'
Carnival Monday opens with J'Ouvert at 4am, when revelers parade through the streets immersed in paint, grease and mud until sunrise. Later in the day on Monday and all day on Carnival Tuesday, thousands of masqueraders flood the streets throughout the island dancing through the parade routes to the exhilarating sounds of soca, steelpan and calypso music. Revellers wear elaborate carnival costumes often decorated with feathers and sequins. Carnival bands are organized groups made up of participants who pay for costumes fashioned by a designer and assembled by teams of volunteers. If you want to take part in the parade, you can purchase a costume of your choice from the many Carnival bands available. Then, you can collect your costumes just before the festival.
The costumed revelers dance through the streets to the sounds of a steel band, a soca band or more recently a d.j. – this is called "playing mas'". A unique feature of this parade is that locals and tourists alike participate in the parade of bands. Each band is led by a King and Queen, who wear extremely large costumes, often requiring extensions and wheels to assist the masquerader to carry it through the streets. Each year on Dimanche Gras (Carnival Sunday), a competition is held to award the King and Queen of Carnival title to two of these masqueraders. On Carnival Monday and Tuesday, the bands are in competition to win the Band of the Year title.
Today, Carnival is less about religion and more about culture. It is a time for people of all ethnicities and religions to come together to have fun. Many participants are not doing it because they are preparing to give anything up afterward, but because they consider it a national holiday and a fundamental part of their culture.
For an Agile Mardi Gras, part of the Agile20 Reflect Festival, how would you "play mas"?. How do bring ideas so many people and ideas together (even in conflict) and reinvent everything to make it your own? What figurative music and common purpose brings us together and helps us communicate?
Everyone is invited to the celebration.
Will you be rocking the "ole mas" or the "pretty mas"? A little bit of both?
Regardless, our theme is: *Making the Old New". How will we take our 20 year old (and even older) traditions together, and make them new for our time — which is now?
Learn more and register today!
---
About the Author
[aa-author-bio]